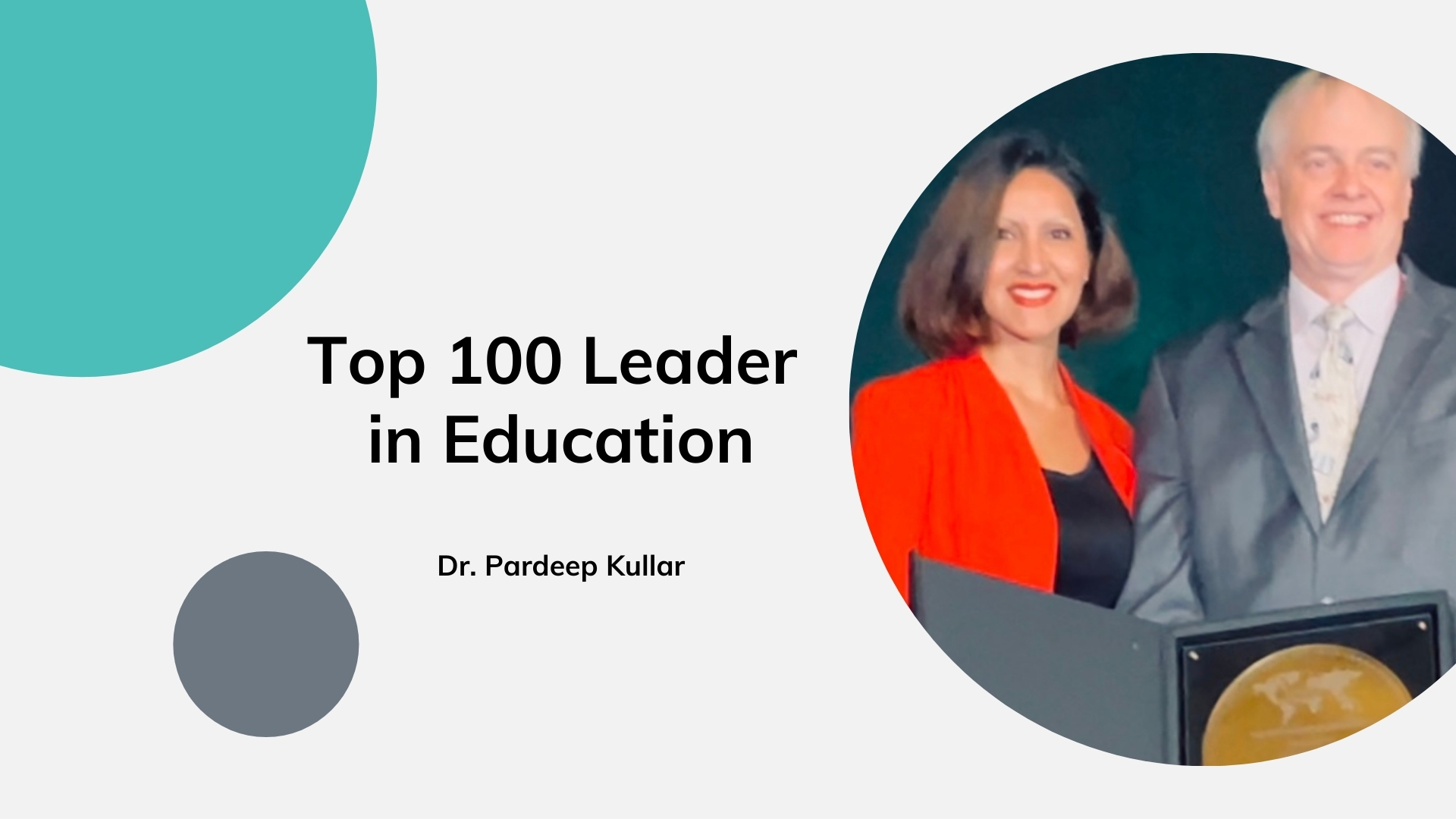 Kullar College founder, Dr. Pardeep Kullar was recently recognized as a Top 100 Leader in Education by the Global Forum for Education & Learning.
Dr. Kullar has been making waves in education for some time now and so we wanted to see what she's been up to lately.
We found out that she's an early adopter of many technologies not common in the education space and finds a way to integrate them into online learning for the modern generation. By doing so, Dr. Kullar has put Kullar College at the forefront of the new online learning model by going digital-first, capitalizing on technology, and adopting AI.
She's led the vision of Kullar College to create a high quality learning experience that's tailored to digital natives who are looking for education that gives them both, freedom and a personal touch.
The Global Forum for Education and Learning reached out to her to recognize her for achievements in the field of education. When asked what was the criteria upon which she was selected, here's the top three criteria they provided:
Leader in bold and innovative approaches to learning.
Leader in launching programs that meet market needs
Leader in leading institutional vision and strategy.
Dr. Kullar was honored to accept the award on behalf of Kullar College, as much as for herself. In her acceptance she noted,
"At Kullar college, we've specifically designed learning around what learners need in a modern learning environment so that they can learn in the way that's most optimal and natural for them. To do this, we've had to bring together ideas and concepts not traditionally found in the education and learning space."
Dr. Kullar's leadership has led Kullar College to offer a customized, individualized approach for learners to master critical concepts through personalized and one-on-one learning as well as group collaboration. This enables learners to learn at their own time and pace from anywhere in the world on any device that they prefer.
Kullar College is geared towards providing an education format where students are able to work independently but also collaboratively with each other. This gives them the opportunity to learn how they need in today's digital economy while being enabled by next-generation technology, like artificial intelligence (AI).
Through Dr. Kullar's efforts, Kullar College has partnered with Harvard Business School to offer the most current, relevant, and engaging content for learners so they can enter their careers at an advantage. Through its signature, One-Day Advantage learners are able to earn their certificate in as little time as one day, faster than ever before.

In case you're wondering, Kullar College offers Leadership Programs in the following:
We also offer our flagship Executive Program in Organizational Leadership.
Dr. Kullar is a powerhouse in the world of education and she is ensuring that Kullar College is a powerhouse in the world of executive education.
With a selective range of offerings, cutting-edge partnerships, and one-day certificates that get learners from novice to expert at lightning speed, learners can not only imagine what it would be like to get ahead in one day with the best learning out there, but they can actually do it at Kullar College.
Check out the programs at Kullar College here www.kullar.com/p/programs.