LEARN WITH CONTENT & CASE STUDIES FROM
Harvard Business School
EXECUTIVE CERTIFICATE
Agile Innovation & Change
5 Courses | 9 Classes | 3 Case Conversations
Learn to lead like a Chief Operations Officer. The Agile Innovation & Change program is designed for individuals who are leading change, creating workflows for rapid iteration and innovation, exploring conditions in which their organization can be more nimble, and are responsible for actively introducing innovation through agile practices in teams, projects, and strategy.
The courses in this program will help you advance your skills to lead practices that drive the goals of the company and your department, including bottom-line deliverables, covering the most essential thinking on fluid teamwork, exploring conditions in which agile is effective, and introducing dextrous creativity into a broader range of activities to accelerate growth and profit. You will learn how to transform ideas into action, create a culture of continuous innovation, and establish supple and energetic team practices to lead the way.
It will set you up as a leader for innovation and change, team creativity and collaboration, and enable you to take on greater responsibility and authority in creating a more nimble workforce and workplace for your team and organization.
This program culminates in an Executive Certificate in Agile Innovation & Change. It can be taken as an individual program or as part of the Organizational Leadership program.
Earn Your Certificate in One Day
Benefits and Opportunities
What are the benefits you can experience?
Continuing Education Credits · Industry Credibility & Recognition · Career Advancement · Leadership Opportunity · Salary Increase · Greater Work Satisfaction · Higher Scores on Annual Evaluations · Networking & Community · Job Opportunities · High Demand Skills
What kinds of opportunities can you get?
Chief Operations Officer · Agile Coach · Agility Consultant · Change Management Consultant · Innovation Lead · Team Lead · Chief Transformation Officer · Director of Operations · Business Agility Lead · Agility Strategy Consultant · Program Manager · Project Manager
Your Executive Certificate
Get a verifiable digital certificate and badge that you can immediately add to your LinkedIn, Facebook, Twitter, and other social media profiles.
What You Will Learn
The Agile Innovation & Change curriculum will prepare you to explore and apply the most advantageous and effective agile practices for your organization, improve bottom-line growth opportunities, and invent and reinvent more rapidly. You will work through the following five courses in this program:
Introduction to Agile Innovation & Change
Learn how innovation works by understanding agile, when to use it, and when it's too late to integrate an agile framework.
Understanding Innovation & Change Agility
Learn how to create a truly flexible organization, how to support agile teams for innovation and creativity, and what to do when agile goes wrong and how to fix it.
Creating an Agile Culture
Learn the benefits of creating an agile culture for teamwork, how to combine and recombine essential expertise, how to rapidly create solutions when problems arise, and how to use agile as a key part of the hiring and training process.
Applying Agile Principles to Lead Innovation & Change
Learn how to set the tone for your organization, tap the people who are better at handling variable and unpredictable situations, and curtail early excitement from leading to a backslide.
Leading Transformation
Review three case studies from one company, analyze their actions and the outcomes related to transformation through agile, innovation, and culture, and discuss when transformation is and is not the optimal solution.
A Preview of the Curriculum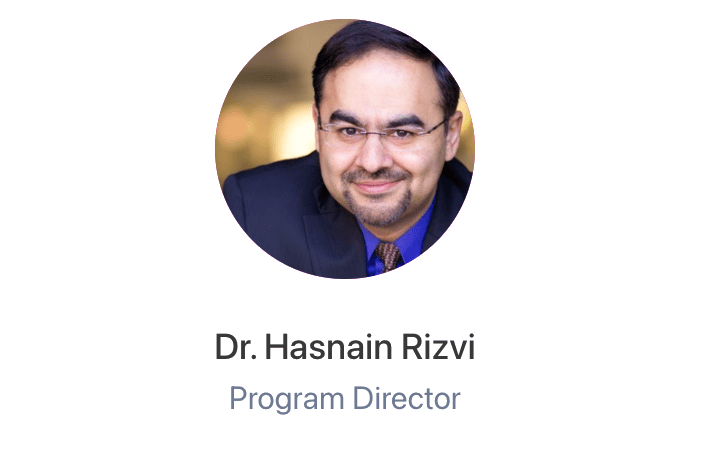 Meet Your Program Director
Dr. Hasnain Rizvi holds a PhD, DBA, MBA, PMP among many other certifications and has in-depth experience in Agile Transformation. He serves as an adjunct instructor and trainer with several universities and organizations, including The University of British Columbia, SAIT Polytechnic, Steinbeis School of International Business and Entrepreneurship (SIBE), Leoron, and Udacity.
Dr. Rizvi has a Doctorate in Project and Program Management from SKEMA Business School in France. He is an acclaimed professional speaker and, along with customized executive coaching, provides Project Management, Agile and Business Analysis related certification track coaching and training. He has spoken at professional events in North America, Europe, The Middle East and China.
FAQs
What is included in the program?
This program includes five courses, 9 lessons, and 3 case studies.
How much work is required?
You will complete 20 community interactions, 5 self-reflections, and 5 one-on-one sessions with your instructor, and one article for publication.
Will I really be able to finish in one day?
Yes! The program is intensive but can be done in one day if you set aside a full day for learning.
What if I want to take more time?
You have access to the program for six months and can reach out to us if you need more time.
Will I get any CEUs for this program?
Yes! You will receive 5 Continuing Education/ Professional Development Units for completing the course program.
Do I have to be available for any specific live classes?
No! The program is digital-first and in this nature, you get to navigate and control when you're available and when you learn.
Check your inbox to confirm your connection.