LEARN WITH CONTENT & CASE STUDIES FROM
Harvard Business School
EXECUTIVE CERTIFICATE
Data & Strategic Analytics Leadership
5 Courses | 14 Class Sessions | 2 Case Conversations
The Data & Strategic Analytics program is designed for individuals who are keen to use data to drive insight and growth, develop strategy based on analytical information, explore quantitative and qualitative narratives to understand results, and lead with measurable metrics.
The courses in this program will break down the priorities you need to focus on to embed analytics into your leadership approach, organizational culture, and actionable application. It will show you the true power of strategic analytics to lead your decision-making, make critical business moves, and create solutions that prepare you and your company to be successful in the future of work. You will learn how to transform insight into action, create an analytics-driven culture in your company, and bring on the right talent to lead the way.
It will set you up for success as a leader at any level, giving you the insights you need to utilize data and impact strategy in the most effective ways for company, department, and team growth.
This program culminates in an Executive Certificate in Data & Strategic Analytics. It can be taken as an individual program or part of the Organizational Leadership program.
Earn Your Certificate in One Day
Benefits and Opportunities
What are the benefits you can experience?
Continuing Education Credits · Industry Credibility & Recognition · Career Advancement · Leadership Opportunity · Salary Increase · Greater Work Satisfaction · Higher Scores on Annual Evaluations· Networking & Community · Job Opportunities · High Demand Skills
What kinds of opportunities can you get?
Chief Strategy Officer · Chief Analyst · Head of Data & Analytics · Head of Strategic Operations · Head of Expansion · Analytics Specialist · Chief Information Officer · Head of Market Research · Director of Data Informatics · Strategy Consultant · Strategic Advisor
Your Executive Certificate
Get a verifiable digital certificate and badge that you can immediately add to your LinkedIn, Facebook, Twitter, and other social media profiles.
What You Will Learn
The Data & Strategic Analytics curriculum will prepare you to apply data analytics in key decision-making and guide data-informed action in your organization for the future of work. You will work through the following five courses in this program:
Introduction to Analytics Leadership
Learn why analytics are strategic, how they are people-driven, what makes them important, and the why your organization needs them.
Understanding Analytics Basics
Learn what analytics are and are not, how data is gathered, what great analysts do, and how to successfully deploy analytics in your organization.
Becoming a Data-Driven Organization
Learn who are your data players, who needs to get on board, and the gap in-between so that you can appropriately build and become a data-driven organization.
Applying Data Analytics
Learn how you are using your data to create predictive models for growth and strategy, and how you can use your data responsibly, wisely, and for the public good.
Leading with Strategic Analytics
Review case studies of two companies, analyze the actions their actions based on the data, and debate when analytics is and is not the optimal solution.
A Preview of the Curriculum


Student Testimonial
This program is a real eye-opener. It helped me see the value of data and how it can shape the direction of a company, and even make or break it. I found the case studies super valuable and there's nothing like the self-reflections. They gave me the insights I needed to know so that I could lead with data information. Plus, I got promoted because I got this certificate at just the right time!
Charlene P. | Head of Strategy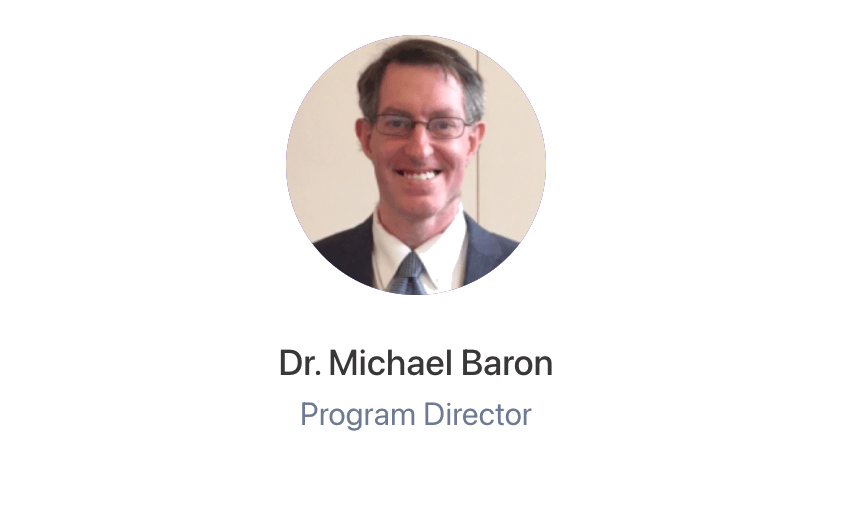 Meet Your Program Director
Dr. Michael Baron is a Senior Instructor in Data Science, Data Analytics, Statistics, and Business Analytics for Cornell University and eCornell, and serves as an Adjunct Lecturer and Master's Thesis Advisor at Northwestern University, specializing in Statistics, Analytics, and Research Methods.
Dr. Baron holds a Doctoral degree in Leadership and Learning from Vanderbilt University, a Master's degree in Communications from the University of Pennsylvania, and a Bachelor's degree from Harvard University. 
Dr. Baron has earned numerous certificates and awards, and two additional Master's degrees, from Harvard and Northwestern, respectively. 
FAQs
What is included in the program?
This program includes five courses, 14 lessons, and 2 case studies.
How much work is required?
You will complete 20 community interactions, 5 self-reflections, and 5 one-on-one sessions with your instructor, and one article for publication.
Will I really be able to finish in one day?
Yes! The program is intensive but can be done in one day if you set aside a full day for learning.
What if I want to take more time?
You have access to the program for six months and can reach out to us if you need more time.
Does this program offer any CEUs?
Yes! You will receive 5 Continuing Education/ Professional Development Units for completing the course program.
Do I have to be available for any specific live classes?
No! The program is digital-first and in this nature, you get to navigate and control when you're available and when you learn.
Check your inbox to confirm your email.