LEARN WITH CONTENT & CASE STUDIES FROM
Harvard Business School
EXECUTIVE CERTIFICATE
Diversity, Equity & Inclusion
5 Courses | 9 Classes | 3 Case Conversations
The Diversity, Equity & Inclusion program is designed for individuals who are creating a culture of equity and belonging, covering the most essential principles for inclusion, exploring conditions in which diversity and equity efforts are effective, and introducing practices that cultivate equality, trust, and safety.
The courses in this program will help you advance your skills to lead with diversity, equity, and inclusion to create a more just workplace, bring diverse perspectives and ideas to the organization, and create opportunities for advancement that support your company mission and your department. You will learn how to transform inequitable organizational behavior into a more just workplace, create an inclusion-driven culture in your company, and promote the right experiences and opportunities to build belonging and trust.
It will set you up to lead diversity, equity, and inclusion initiatives, and enable you to take on greater responsibility in guiding change within your team or organization. You will have the insights to create a more valued, fair, and just workplace.
This program culminates in an Executive Certificate in Diversity, Equity, and Inclusion. It can be taken as an individual program or as part of the Organizational Leadership program.
Earn Your Certificate in One Day
Benefits and Opportunities
What are the benefits you can experience?
Continuing Education Credits · Industry Credibility & Recognition · Career Advancement · Leadership Opportunity · Salary Increase · Greater Work Satisfaction · Higher Scores on Annual Evaluations· Networking & Community · Job Opportunities · High Demand Skills
What kinds of opportunities can you get?
Chief Diversity Officer · Diversity & Inclusion Lead · DE&I Consultant · Inclusion Officer · Director of DE&I · Head of Culture · Head of DE&I · Diversity, Equity & Inclusion Specialist · Organizational Culture Lead · Inclusion Coach · Diversity & Inclusion Strategist · Onboarding Specialist · Belonging Expert
Your Executive Certificate
Get a verifiable digital certificate and badge that you can immediately add to your LinkedIn, Facebook, Twitter, and other social media profiles.
What You Will Learn
The Diversity, Equity, and Inclusion program will prepare you to explore and apply the most essential, necessary, and effective practices for diversity, equity, and inclusion. You will gain insights that will support your efforts to create a workplace that appreciates differences, values and finds creative innovation in them, and recognizes how they support growth opportunities within the organization. You will work through the following five courses in this program:
Introduction to Inclusion & Leadership
Learn how change is possible when you press for progress toward equity, share the right information, create the right incentives, and invest in your people fairly.
Understanding DE&I
Learn what you can do to take meaningful action toward racism, inequity, and practices of dis-inclusion at your workplace, and how you can advance justice.
Creating a Culture of Equity & Belonging
Learn the importance of why DE&I efforts are not working and what you can do to change them, create structural change to update and upgrade your DE&I initiatives, and look at the right data to take informed action.
Applying DE&I Practices
Learn how to set the tone for your organization, listen, engage, and ask questions to create a more inclusive culture, counter bias in your day-to-day activities, and call out racism in the workplace.
Leading for Diversity, Equity & Inclusion
Review case studies from three companies, analyze their actions and the outcomes related to DE&I, and determine if the actions taken were the most optimal and inclusive solutions.
A Preview of the Curriculum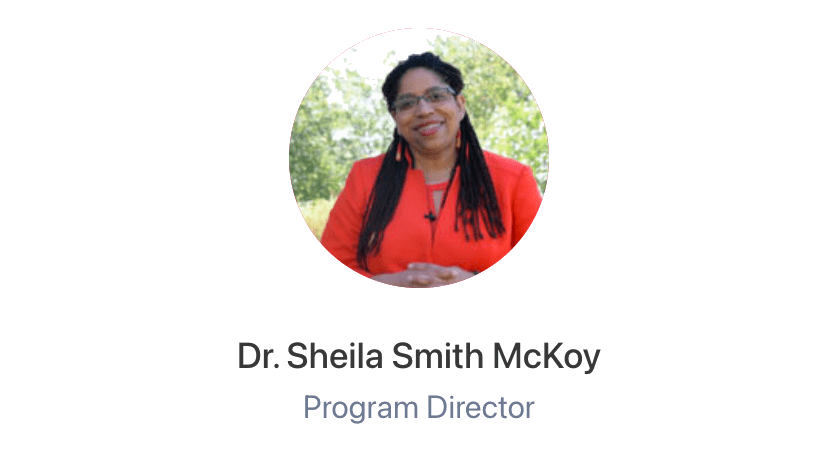 Meet Your Program Director
Dr. Smith McKoy has over three decades of experience in leading diversity efforts, focusing on diversifying leadership, curriculum, and programs. She has worked in senior leadership at various levels and has been recognized for her work in Diversity, Equity and Inclusion, Leadership, Anti-Racism, and Diversity Change Management.
She has been a tenured faculty member and administrative lead at leading universities, including Vanderbilt, North Carolina State, and Duke, among others.
Dr. Smith McKoy holds a BA from North Carolina State University, an MA from the University of North Carolina, Chapel Hill, and a Ph.D. from Duke University.
FAQs
What is included in the program?
This program includes five courses, 9 self-paced lessons, and 3 case studies.
How much work is required?
You will complete 20 community interactions, 5 self-reflections, and 5 one-on-one sessions with your instructor, and create one article for publication.
Will I really be able to finish in one day?
Yes! The program is intensive but can be done in one day if you set aside a full day for learning.
What if I want to take more time?
You have access to the program for six months and can reach out to us if you need more time.
Can I get CEUs for completing this program?
Yes! You will receive 5 Continuing Education/ Professional Development Units for completing the course program.
Do I have to be available for any specific live classes?
No! The program is digital-first and in this nature, you get to navigate and control when you're available and when you learn.
Check your inbox to confirm your email.